2021 A Year In Review For Me
Hey all,
Konrad here. This year has been packed with some pretty wild adventures. From local underground music festivals to city sponsored events, even searching for a loose caracal cat in Royal Oak, MI! I'll explain it all.
As many of you, if not all of you reading this, know, I have started my business venture in 2020. Prior to that, I've been in the industry for ten years. It hasn't been easy living in the public eye, so-to-speak. I feel as though a lot of the private aspects of my life have faded, considering I am carrying this brand on my back alone. That being said, what I built had grown to be so much more than just printing a gorilla on a t-shirt. How did I come to be in this position? It's a lot of pressure I can tell you that.
Support our Gorilla Ambassadors here: Our Gorilla Campaign – HCF 𝘢 𝘸𝘪𝘭𝘥𝘭𝘪𝘧𝘦 𝘤𝘩𝘢𝘳𝘪𝘵𝘺
It's been hard not to project the work I deal with onto myself. Often times, no one can really relate to a lot of what I say since it doesn't directly affect them. It affects me. I've grown frustrated.
People generally are very distrusting to begin with. Which leads me to ask if you can meet distrust with honesty? Is it possible? I live in a very challenging society and involve myself in an even more challenging space dealing with wildlife conservation. Everyone has their own opinions, which makes introducing new ideas that much harder. 
Rewind to October 13th 2021, I see a weird headline on the news. (edit) Friends message me about the same headline. It read, "Loose African Cat In Royal Oak." I read this and thought, well that does not sound right. Isn't the Detroit Zoo in Royal Oak? Reading further, it brought to my attention that the "African Cat" they mentioned was a Caracal Cat that was part of a backyard breeding project.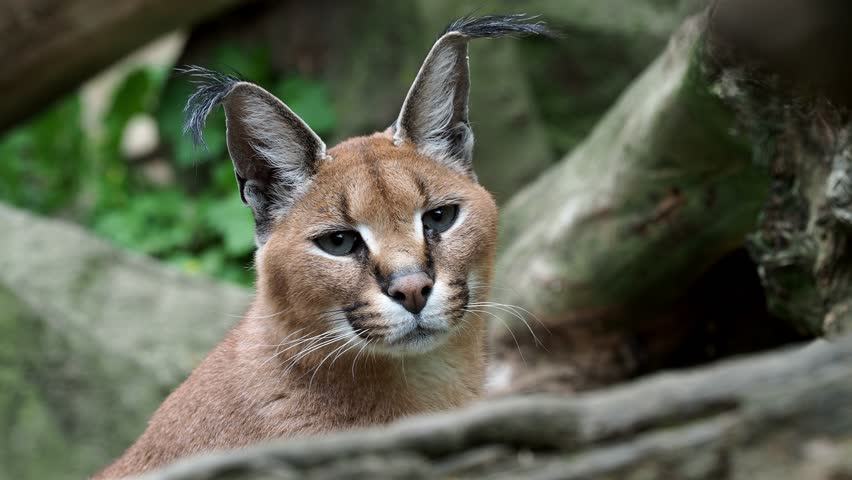 Photographed above is a caracal cat from Shutterstock.
When I read this headline, my first step was to get in my car and head down to Royal Oak. I was very suspicious of how the Police would handle this situation, so I dedicated five hours of my own time to search for this cat in the neighborhood that it escaped from. Once I got downtown, I started digging. My second step was to establish what the legalities were regarding this cat. So, I did what anyone can do, I hopped on Google. 
 When you find the city code, enter "exotic animals" into the search engine. Once you do this, you will see that Caracal Cats are not defined in the City of Royal Oak. Therefore, these cats are not legal or illegal to keep within City limits. I pulled the address where the cat escaped from next. For privacy reasons, I will not be sharing the neighborhoods' location. 
After a long search, I stopped for some food at the Tubby's Submarine Sandwich Shop off of 11 Mile right around the corner from the neighborhood I was searching. Refueled and then I got back to the streets. During my four-to-five-hour hunt for the loose exotic cat, I only encountered one other person searching for it. There was no law enforcement or media present for five hours. The cat was later found outside a neighbor's garage and returned to its owner. No charges against the owner and life returns back to usual.  
This sparked controversy across the US. Leading biologists and conservationists were commenting on the matter. Soon, we started to hear people ask if that cat posed any danger to children or anyone it could have encountered. This story was blasted all over the mainstream news. Which also sparked my curiosity; however, the simple answer was YES, of course that cat was a danger to a small child. Was it really though? NO. It would likely not have attacked anyone unless provoked. However, chances are that cat would have left everyone alone, and it did. No one was hurt. Good Job to South Lyon Murphy Lost Animal Recovery (facebook.com)
Bam Bam in a photo from the South Lyon Murphy Lost Animal Recovery after the rescue captured the African caracal.
Seeing how these cats are not defined by local law, what does that mean for their welfare? Not much, sadly. Since these animals are not defined, no one can enforce their proper management or welfare, which prompted city officials to reconsider their standing on their animal ordinances. Hopefully, this incident will bring about some much-needed change. Why weren't these animals defined before? My concern was that it allotted for the abuse of the animal. There was nothing preventing them from shooting that animal. Granted, that did not happen, but why are these ordinances not addressing the root problem? Hats off to the City of Royal Oak for doing things right!
Fast forward to December 8th 2021, meet Ziggy. He is a squirrel monkey valued close to ten thousand USD. Ziggy was removed from a private residence in Sterling Heights, MI, however no court hearing regarding the monkey was held. Let's see why. 

Photo supplied by the Rybarz family. 
While I attempt to withhold private information, I want to shed light on the legalities of this case and why I involved myself. When I learned of this case, it was from a friend who had a direct involvement. The owner of the monkey that was confiscated was my friend's father. Giving me a direct line to the opposite end of the spiel. My friend was not educated on the matter, law enforcement did not tell the family their rights, and a ticket was written with no plan for a hearing.
Something was off. 
The monkey was taken out of jurisdiction to a private shelter in the Village of Romeo, which is governed by Macomb County Animal Control. I dug into the local ordinances to figure this out. The family informed me that the private shelter was neglecting the needs of the monkey, and I saw exactly what they did. I expressed concern and noted to Macomb County Animal Control that they should remedy this situation and allow the family to rehome their own monkey, despite my doubts, the Chief himself stepped in. 
In this moment, I knew I was right. 
In the morning, I drove to their offices to express my concern further only to see the Chief rolling out the front gates as I pulled up. We exchanged smiles and a wave. He left. Later, I found out that THIS was when he left to remove the monkey from the private shelter in Romeo. However, instead of handling the situation with the family, he brought the monkey to the Detroit Zoo. I think he did what he could in that situation. Hoping the best for Ziggy here.
When I learned this, I drove to the Detroit Zoo to confirm that the monkey was there. After speaking with two officials, I got the confirmation I needed. Later, a phone call was made to the family. They were told they are not allowed to visit, a zoo official told the family it was no longer their monkey, and I was left wondering why. 
After reading this piece of text from the State of Michigan, I want you to know that this monkey was confiscated and brought to a private shelter and then finally to the Zoo with NO COURT HEARING within three consecutive days. Their law expresses a huge flaw in how this case was handled, seeing how their training was completely ignored. 
The Police Department that confiscated Ziggy even went so far as to define Ziggy as a dangerous animal. According to the local ordinances written, an exotic animal cannot be defined as dangerous.
Technically that monkey is still private property until a proper hearing would be held. This is the city code that defines Ziggy as an exotic animal, which we learned earlier was NOT present in Royal Oak regarding the caracal cat. 
I think a huge lesson can be found in both instances. My takeaway may be bigger than yours, the reader, but that doesn't mean you can't play catch up. I know it sounds crazy, hell, a girl even ran out on a date when I tried to tell her this story, but the information is out there. What matters is how you perceive it. I'm not saying the Zoo is in the wrong, however, somewhere down the line, someone was in the wrong. We will see what happens as this case progresses. For now, Ziggy is at the Detroit Zoo. I currently wish the best for the monkey. There is not much we can do. The family had full rights to decide what happened to Ziggy regardless if they could get him back or not. It was their right.
Video of Wasabi with SLMLAR care after the second escape mid-December. I support this group! I would like to help them! (edit)
There is always a Catch 22 to this type of work. These animals need to be defined better, not necessarily banned. I know a lot of you would support that argument. However, when you get into the legal entities at play, the welfare of the animals, and the private care facilities that clean up what I call the pet trades mess, no ONE person should have say over what governs these ordinances. This is something that will require industry professionals to come together and remedy. 
Well, this was my first entry to my blog. I hope you all learned something and enjoyed my writing. 
Thank you.
~Konrad 
Photo from Slideshare.
Response from Michigan Department of Agriculture and Rural Development. 

REVISED: 01/14/2022
---